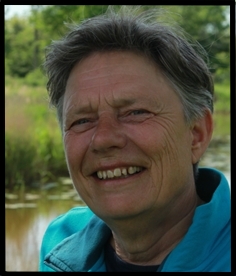 Nettie Groeneveld (November 9, 1952 - October 6, 2018)
Former director of an asylum-seekers centre in the north of the Netherlands, later director of IHLIA LGBT heritage, in recent years running her own business as trainer in mindfulness zen, Nettie Groeneveld was a remarkable woman. For many years she served as volunteer in the LGBT group the public service union Abvakabo, now merged into FNV. She has a wide interest, both in people and in culture, and always tried to be mild in her judgement.

April 30, 1999, was a crucial day in her life. As director of the asylum-seekers centre in the small village of Kollum, she was responsible for the around 400 people in the centre.
On that day, she was suddenly confronted with a fury amongst the local people, when a young girl was found dead.
The village (around 5000 inhabitants) had the idea that the killer could only be an asylum seeker. Even some of the staff of the centre were in doubt: they knew the victim, and they also knew that some asylumn-seekers had not been in the centre during the night of the murder.
It took Nettie almost all her energy to defend her centre - and some months later, after a reorganization, she lost her job.
In 2012, a cold case team solved the murder case and found the killer who turned out to be a local farmer.

We mourn the passing of an optimistic, constructive and empathetic member of the former Abvakabo LGBT group.